This post may contain affiliate links. Please see my Amazon affiliate disclosure at the bottom of this page or click here
This is an easy spring cleaning checklist that will help you spring clean your kitchen quickly and easily.
Kitchen spring cleaning checklist
This kitchen spring cleaning checklist is part of our 1 Day Spring Cleaning Checklist, which is the ultimate checklist for deep cleaning your home in no more than one day's worth of time.
The kitchen has the potential to be a beast when it comes to spring cleaning.
This spring cleaning checklist is for treating your kitchen to its annual deep clean.
Lucky, lucky kitchen!
Kitchen spring cleaning checklist
Clean oven and stove
Inside of oven/s
Not lucky enough to have a self-cleaning oven? No,me neither.
Clearly you can buy turbo charged oven cleaners, but many of them are pretty toxic.
So I suggest using baking soda and white wine vinegar. You'll also need a microfibre sponge and a microfibre cloth.
Sprinkle the bottom of the inside of the oven/s with baking soda. Then spray vinegar over the baking soda until it fizzes up and produces a foam.
Use a paste of baking soda and water to heavily soiled areas of the oven – on the sides, the ceiling etc. Then spray vinegar over the paste.
Ideally you'll leave this overnight, but if there's no time for that, leave it on as long as possible – at least a couple of hours.
Then use the microfibre sponge and cloth to wipe away all of the baking soda / vinegar mixture – along with all the dirt.
Top tip: Use a soft bristle toothbrush to get to hard to reach, tricky areas.
Door glass
Remove the glass in the doors and pop them in the sink. You can use wire wool on them and then once they're clean and dry, give them a wipe with a microfibre cloth with a squirt of white wine vinegar on it, to make them nice and shiny.
Rings
Remove all the cooking rings and pop them in some hot, soapy water. Use wire wool to scrub them – use a toothbrush for tricky corners where grime lurks.
Hob
Wash down the hob using hot soapy water, use the soft bristle toothbrush for hard to reach nooks. Then dry the hob off with a microfibre cloth.
Clean dishwasher
Dishwashers get pretty grotty if you don't look after them and as the sprays and filters get blocked, they stop cleaning things properly.
Luckily, the dishwasher is yet another thing that responds well to baking soda and vinegar.
Clean out fridge and freezer
Even if you try to clean the fridge regularly bits of food do get stuck in all the gaps and seals. Plus there's always some jar of way past its use by date lurking at the very back!
Fridge
Empty the contents of the fridge onto the counter, putting more delicate items into a cooler if you have one.
Then turn the fridge off – don't forget to leave the door open – to get it up to room temperature. Glass and ceramics can crack if they have hot water put on them when they are cold.
Once the fridge is at room temperature wash it out, starting top shelf first and working down.
Warm soapy water works well for cleaning fridges, you have to be careful what you put on their linings, so I tend to avoid vinegar and baking soda.
Use a toothbrush to get into nooks and crannies and don't forget to wipe down the external surfaces, especially the handles.
Freezer
Clean microwave
There's a completely scrub-free way to clean your microwave.
It's so easy you can literally walk away and let it clean itself.
Just add a half / half solution of white wine vinegar / water to a microwave safe bowl, pop it in the microwave and set the microwave to cook for an initial five minutes – enough time for it to get really steamy.
Check the progress and repeat if necessary. Do make sure there is plenty of solution in the microwave before you switch it on.
Then simply remove the bowl – be careful to use protection in case it is hot – and wipe down the steamy walls of the microwave.
Descale kettle
I use white wine vinegar to descale our kettle. This works quite literally like magic and is one of my favourite cleaning hacks, which is why it has a post all of its own!
You can read the post here: How To Clean Your Kettle With Vinegar, it literally is a super quick kettle cleaning hack that will have your kettle shiny and new within minutes and with minimal effort.
Wash down surfaces and clean cupboards
There's no great secret to this one – it just involves removing everything off the work surfaces and getting everything out of the cupboards. Then,
Vacuum up crumbs
Wipe down shelves
Chuck out stuff past it's sell by date
Get rid of stuff you really never use
Clean and sanitise bins
Ideally this should be done more than once a year… but hey, who is counting?!
If the weather isn't too horrid, get those bins outside and give them a hosing down.
Give them a real scrub, outside and inside.
Then, as a final flourish, you can spritz them with essential oil inside, so they stay fresh smelling and and antiseptic.
Clean floors
The kitchen floor really takes a beating and needs at least weekly care and attention but once a year is the opportunity to:
really clean in all the corners you don't usually reach
scrub away at the stubborn spots
re-apply wax or finish
There are lots of natural floor cleaners, but you do need to be careful about what you use on certain floors and finishes.
A good number of commercial cleaners and for example, vinegar will take the finish off floors and may damage stone or laminate floors.
If you're not sure what to use, look for tips for your specific flooring.
So, that's it for the kitchen. Pop through to the 1 Day Spring Cleaning Checklist for links to checklists for cleaning the bathroom, living spaces and bedrooms.
You can download the FREE printable 1 Day Spring Cleaning Checklist here.
Pin to save: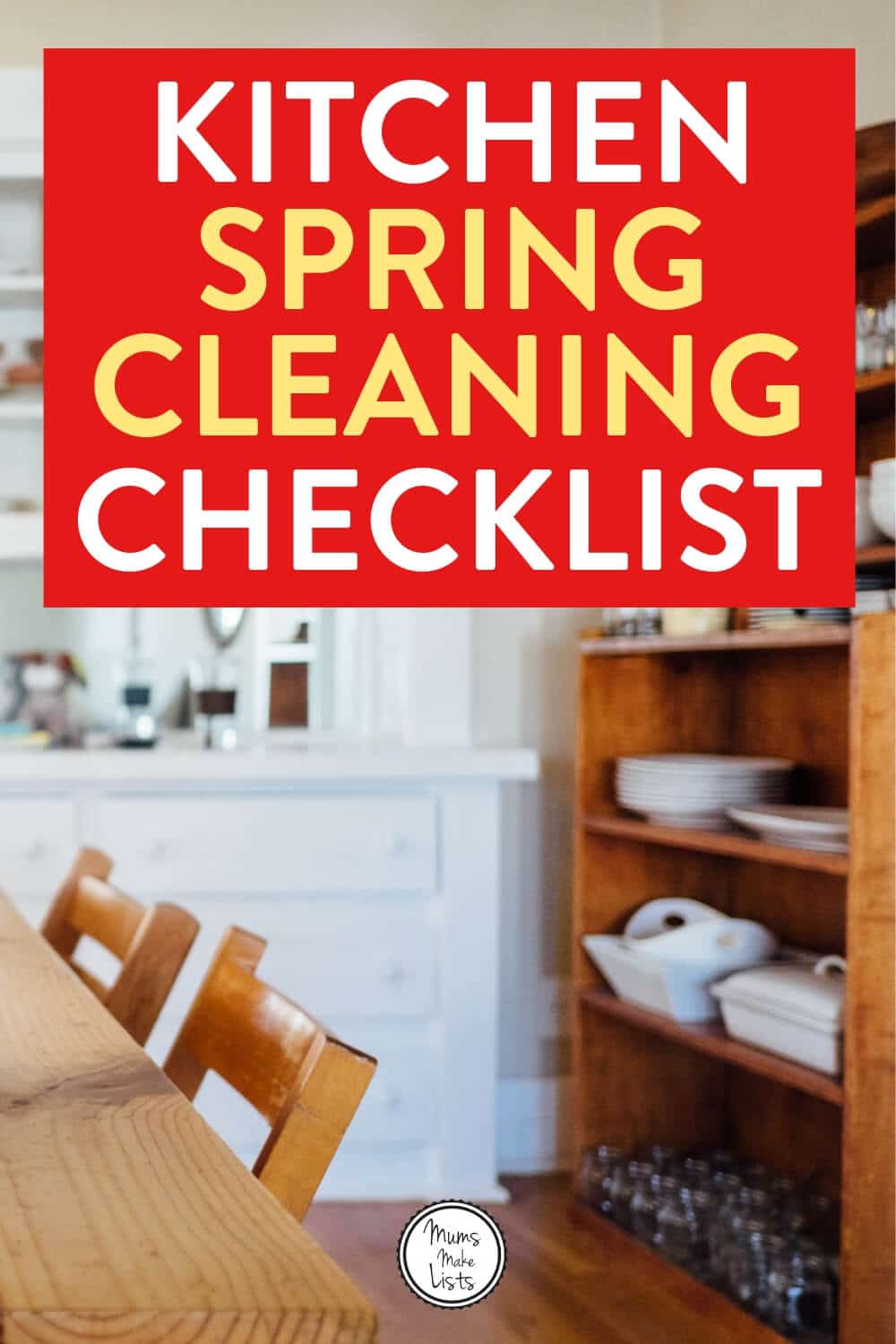 Luci is the founder of Mums Make Lists. She has written about all aspects of organising family life for ten years. Her main areas of expertise are family finance and budgeting, simplifying housekeeping and family admin and kids' party planning. Read more.